Mobile
Get your property website mobile ready! Contact us on (03) 9686 2288.
You've got a unique property website for your home – now what?
With over 50% of online searches performed using a mobile device, now more than ever it is important to have a website that is easy to navigate and use, when viewing it via mobile devices, such as mobile phones, ipads, tablets and smartphones.
Here is an example of a property website we made mobile compatible for a client: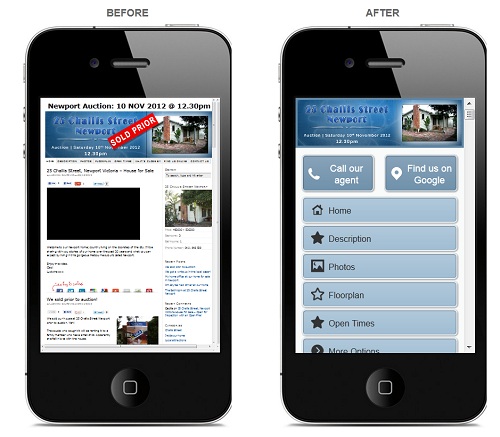 As you can clearly see, the image on the right, after the website has been optimised to display on a mobile device, is far easier to navigate and use. We even included a "one touch" button to call the real estate agent, right then and there.
If you've ever tried to access a website using your smartphone only to find the website display to be "clunky" and anything but user friendly, you'll understand how important it is to make your property website easy to use and simple to navigate.
There is nothing more annoying than trying to view photos and floorplans online and the website you're viewing doesn't easily allow you to clearly see a photo or load up a floorplan.
Remove the frustration for buyers viewing your property online by making sure your property website is optimised to display perfectly on a mobile device.
Think no one views your website from their mobile device?
When we set up the property website for a client, we made sure that the website was optimised for mobile viewing.
Below you'll see the usage figures by potential buyers who viewed the website on their smartphone or tablet.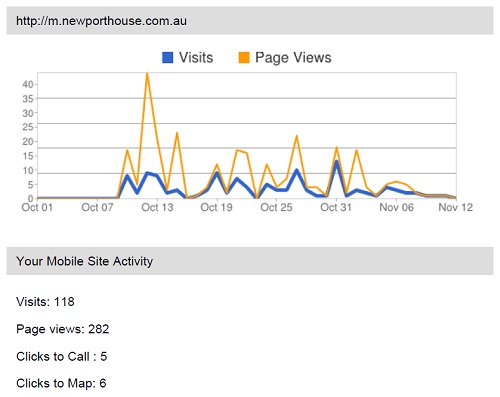 During the sales campaign, over 100 visits to the website were made using a mobile device, viewing over 280 pages, with five website visitors using the mobile website version directly to call the real estate agent to enquire about the property.
The above property sold prior to auction, for above the guide price. We implemented the strategy of using a unique property website plus we made sure this website was easy to view on mobile devices.
Using a mobile ready property website works.
We're here to help
Social Property Selling can quickly and easily convert your property website to be user friendly for use on mobile devices.
We also create unique property websites to showcase your property. Find more information about that service here.
Google+