About Social Property Selling
About Social Property Selling
At Social Property Selling, we work with real estate agents and people selling their homes to leverage the power of the online world into their real estate sales marketing.
What We Do
We write sales copy for the real estate industry – we write the words on the page (brochure, board, internet) that sell.
Find out more information about our real estate copywriting service here.
We create individual stand alone showcase property websites with their own unique website URL (eg: www.25YorkStRichmond.com). These websites are found online by buyers using the internet to search for properties. Each website is optimised to be found by search engines, such as Google to better increase the chances of buyers finding your home online.
Find out more information about our showcase property website service here.
We write content, in the form of blog posts about properties and homes for sale, to create that emotional connection between a potential buyer and a home that is so important. People buy on emotion. Through creative, emotive blog posts, we create that emotion.
Find out more information about our content creation service here.

Social Property Selling brings to the table a dynamo in the New Media and Real Estate space – Wendy Chamberlain.
About Wendy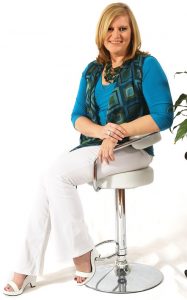 Wendy Chamberlain, founder of SocialPropertySelling.com is a dynamic sought-after speaker, trainer, international best-selling author and Online Engagement Strategist who shares her message with passion and enthusiasm.
Driven by a desire to educate and empower others and a need to follow her passion, Wendy threw in her high-powered, six figure job with its $45 million budgets and gut wrenching stress to create Affluencia.com, a real estate education website showing enthusiastic would-be property owners how to get started in real estate.
An avid real estate investor herself, Wendy has bought and sold many properties in her own portfolio using various investment strategies, including several renovation projects and positive cash-flow investments. She has also purchased in her own Self Managed Super Fund.
Having worked in IT for over 20 years, Wendy holds a Bachelor of Computing Degree and has successfully established and run a National IT Help Desk for a Global company.   In 2009 Wendy established Savvy Web Women, employing her unique ability to decode the "geek speak" and "techno-babble" using simple, plain English to help savvy business owners better understand social media and navigate the online world.
Social Property Selling is the realisation of two passions for Wendy – real estate and computers – and she brings to the table her considerable experience and expertise in both arenas.
With a love of all things real estate, Wendy is a fully licensed real estate agent who has helped her clients buy and sell dozens of properties. She embraces her role as a buyer's advocate, property finder and vendor advocate with fervour.
For more information on Chamberlain Property Advocates head here.
Google+