Already using Social Media? Follow
Social Property Selling
for the latest about new features, tips and tricks when it comes to real estate and social media.
Spring may be over but the property market in Australia is enjoying rapid sales.
New research from realestate.com.au shows that home sellers are gaining the advantage in the property market signaling a shift from a buyers' market to a sellers' market, as buyers, particularly investors, are willing to pay more to secure a property that meets their needs.
The realestate.com.au report entitled 2013 Consumer Insights Report on Buyers and Sellers confirmed that in the past year, across the nation buyers are more likely to offer or bid above the reserve price in order to secure a property.
Data showed that 41 percent of buyers had placed a bid higher than the asking price. This figure is up from 23 percent in 2012.
Additionally, 52 percent of buyers had bid more than the reserve price at an auction. Again, the figure is higher than the 36 percent noted in 2012.
A shift in the buyer profile to the higher end of the market has seen the price range of properties being sought by buyers and investors move to between $500,000 and $1.5 million.  That's 39 percent of buyers in 2013 compared to 30 percent in 2012.
Traditionally the realm of the first-home buyer, properties sought by buyers looking in the $400,000 or less price bracket decreased significantly, from 49 percent in 2012 to just 38 percent this year.
Wtih market confidence high, home sellers are confident in asking a good price for their property with the realestate.com.au data revealing almost a quarter of sellers (24 percent) would only accept or consider offers above the asking price.
Realestate.com.au general manager of sales and operations Arthur Charlaftis believes, with such confidence in the market, now is a good time to sell a property. He added "the end of the spring selling season may be drawing to a close but our data shows that there is no reason for people to stop selling".  With investors returning to the market, low interest rates and a limited supply of properties, now is a great time for sellers to take action. 49 percent of buyers believe that property prices will continue to increase in the next six months, so if you're considering selling, it's a great time to take action." said Mr Charlaftis.
For his part, Torsten Kasper, principal at Chrisholm and Gamon Property agreed that demand for property is at an all-time high for 2013, saying " we have seen consistent growth in the number of people bidding at auction in the last few months.  Spring may be over, but we are still busy in the lead up to summer.  Good properties are selling well, quickly and are getting multiple bids at auction".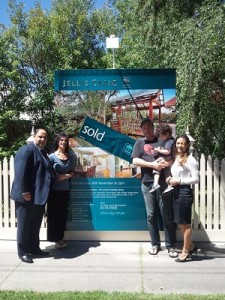 This most certainly was the case on Saturday at an auction I attended at 46 Robsinson Street, Moonee Ponds.
A large crowd turned out to see John Morello, Director of Jellis Craig Kensington auction a beautifully renovated double-fronted Victorian home, with Mr Morello calling the location "the best pocket" of Moonee Ponds.
The crowd agreed, with five bidders keen to call the quiet street home.  After much spirited bidding, one happy family took possession of the keys after pushing the price to well beyond the expections of the thrilled vendors.
The report also revealed:
Selling beahviours and attitudes
58 percent of those intending to sell planned to sell via private sale
31 percent of sellers believe property values will increase 5-10 percent in the next six months
Buying behaviours and attitudes
88 percent of investors were looking to purchase a property to rent out
37 percent of those looking to buy intend to pay less than 20 percent of their mortgage as a deposit
16 percent of buyers did not require a home loan to purchase their property (up from 11 percent in 2012)
those looking to purchase for investment were significantly more likely to purchase a flat / unit / apartment or a newly built property
See the full stats for your state here.
How do you feel the market is faring as we move into 2014? Leave a comment below.
Found this article useful?
Consider using the buttons below to share on your favourite social network.

By Wendy Chamberlain
Copyright 2013 Social Property Selling
WANT TO USE THIS ARTICLE?
You can as long as you include the following (links must be active):
Social Property Selling is the brainchild of Wendy Chamberlain, a trainer, speaker, International best-selling author and online engagement strategist who combines her online savvy with her passion for real estate to show sellers and real estate agents alike how to achieve a better price when selling a home. To receive your FREE Special Report and how-to articles to expand your real estate toolkit, visit www.SocialPropertySelling.com.
Google+
Tagged as: good time to purchase a property, homesellers gaining advantage, more buyers coming in to purchase the perfect property, realestate.com.au 2013 consumer insights report, Social Property Selling, spring selling season heads into summer, Wendy Chamberlain