Already using Social Media? Follow
Social Property Selling
for the latest about new features, tips and tricks when it comes to real estate and social media.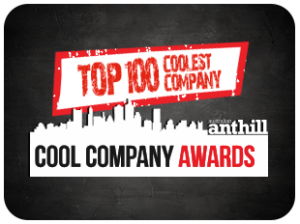 Social Property Selling has been named among the Top 100 Cool Companies in Australia as part of Anthill Magazine's 8th year of running the awards.
Social Property Selling was selected among the more than 700 nominations and several hundred applications. The Anthill panel of judges selects the cool companies based on three factors – business savvy, originality and joie de viv.
The judges are experts in various fields such as business development, venture capital, intellectual property and industrial design.
This accolade comes on the back of Social Property Selling being named in the Anthill Magazine SMART 100 (making Top 50) earlier this year.
About Social Property Selling
Social Property Selling is the brainchild of avid real estate investor and social media maven Wendy Chamberlain. It is an online-marketing strategy firm that turns traditional real estate marketing on its head by directly tapping into the real estate buying market here in Australia.
"With buyers becoming increasingly online-savvy, it just makes sense to market where the eyeballs are" says Chamberlain "and that's online. Emotion sells and we create that emotional connection between a property and a buyer using effective online marketing strategies: emotive sales copy, individual micro-property websites to showcase a home and blogging about a home for sale – what it's been like to live in a home and why a buyer will love it too. It's no longer 'are you online?' These days, it's about how your home stands out online."
Working with real estate agents and sellers alike, Social Property Selling is the realisation of two passions for Wendy – real estate and computers – and she brings to the table her considerable experience and expertise in both arenas.
About Cool Company Awards
The Cool Company Award was established by Anthill Magazine in 2006 to recognize organizations in Australia making unique achievements to create positive change. It is a way to discover inspiring stories and unconventional opinions.
Six specific criteria are used by Anthill Magazine to pick the organizations deserving of a Coolest Company Award. These are innovation, entrepreneurship, youthful attitude, reinvention, creativity and the x-factor.
What is Anthill Magazine?
Anthill was initially launched as a print magazine, in September 2003, by its current editor-in-chief James Tuckerman, who at the age of 26 quit his day job, departing a promising career in corporate PR, to pursue his own entrepreneurial journey.
Since then, it has evolved into one of Australia's leading online communities for Australian business owners, ranked among the Top 50 Business & Finance websites in Australia by Nielsen Online Ratings. It is dedicated to innovation, entrepreneurship and the commercial development of Australian ideas.
Found this article useful?
Consider using the buttons below to share on your favourite social network.

By Wendy Chamberlain
Copyright 2013 Social Property Selling
WANT TO USE THIS ARTICLE?
You can as long as you include the following (links must be active):
Social Property Selling is the brainchild of Wendy Chamberlain, a trainer, speaker, International best-selling author and online engagement strategist who combines her online savvy with her passion for real estate to show sellers and real estate agents alike how to achieve a better price when selling a home. To receive your FREE Special Report and how-to articles to expand your real estate toolkit, visit www.SocialPropertySelling.com.
Google+
Tagged as: 2013 Cool Company, Anthill Magazine Cool Company Awards, Social Property Selling, Social Property Selling listed in Top 100 Cool Company, Top 100 Cool Company Awards of Anthill Magazine, Wendy Chamberlain