Already using Social Media? Follow
Social Property Selling
for the latest about new features, tips and tricks when it comes to real estate and social media.
Kensington is one of Melbourne's suburbs close to the central business district (CBD). The area with a population of 9,719 as of 2011 used to be the location of a major abbatoir and livestock salesyard as well as an army ordnance and several factories.
The Wurundjeri people were the first settlers of Kensington. They were hunters and gatherers who have inhabited the nearby Birrarung Valley for up to 40,000 years.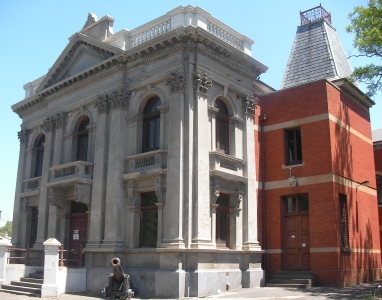 History
Originally, Kensington was part of the City of Essendon in 1861. More than two decades later in 1882, it separated from the city to form the so-called Borough of Flemington and Kensington.
In terms of land sales, the Palace Hotel and the Wesleyan Church were among the earliest to be acquired in 1879. By 1886, more infrastructure development took place with 20 new buildings opening every month. The southern part of the suburb also accommodated more establishments during that time including the Gillespie Mill.
The Kensington railway station was opened in 1860 courtesy of the Melbourne and Essendon Railway Company. Although it was closed for operation four years after, it was reopened later in 1867 by the Victorian Railways.
Present Day
Today, Kensington has an estimated 4,492 homes of which 45 percent are privately owned and occupied. Housing in the area is a mix of semi-detached row or terrace houses, apartments and public housing. Most are situated in the western section.
Public housing was established in the suburb in the 1960s and in 2012, 210 more new units were added while 217 were renovated.
Recreational facilities are also in place in Kensington. The J.J. Holland Park features three ovals, a BMX track, children's playground, a public swimming pool and a community centre. There's also a public park on the Maribyrnong Riverfront and a Skinny Park with a playground and barbecue facilities.
Public transport is easily accessible as well. Three train stations service the Kensington suburb including the Tram route 57. In addition, two bus routes are in existence covering the Macaulay, Kensington, Smithfield and Epsom roads.
Read more about the Kensington Suburb profile through our infographic.
Found this article useful?
Consider using the buttons below to share on your favourite social network.

By Wendy Chamberlain
Copyright 2013 Social Property Selling
WANT TO USE THIS ARTICLE?
You can as long as you include the following (links must be active):
Social Property Selling is the brainchild of Wendy Chamberlain, a trainer, speaker, International best-selling author and online engagement strategist who combines her online savvy with her passion for real estate to show sellers and real estate agents alike how to achieve a better price when selling a home. To receive your FREE Special Report and how-to articles to expand your real estate toolkit, visit www.SocialPropertySelling.com.
Google+
Tagged as: apartments, demographics, dwellings, J.J. Holland Park, Kensington, Kensington suburb, Maribyrnong River, nature of occupancy, profile information, public housing, public transport, riverfront, Skinny Park, Social Property Selling, train stations, Victoria, Wendy Chamberlain