Already using Social Media? Follow
Social Property Selling
for the latest about new features, tips and tricks when it comes to real estate and social media.
As an owner of real estate, it is possible for you be caught unaware about the process of adverse possession whereby someone can come along and effectively, claim ownership of your land.
So what is adverse possession when applied to a real estate scenario?
Adverse possession refers to the occupation of land not consistent with the rights of the real owner. This basically pertains to the right of a trespasser to own land or part of it which has been in his possession for a certain period of time. Full ownership of the land can be granted to that individual if he or she has been using that land for at least 15 years.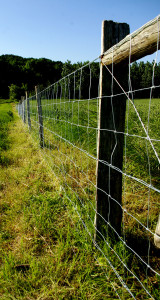 Put another way, adverse possession of land is where a person (the occupier) occupies or is in possession of land legally owned by another person or entity and may acquire ownership and title to the occupied land.
This old doctrine of adverse possession protects the land owner against anybody who wants to claim the property but fails to provide proof of a better land title. It protects the occupier of the land concerned from being ejected by any person who may later on discover a technical issue concerning the land's original boundaries.
In order to claim adverse possession, the person occupying the land must be able to show that they have had continuous and exclusive possession of the land for a minimum of 15 years. The time limit varies between Australian States and Territories. The person occupying the land must be able to show the Land Titles Office they have acted as though they own the land, not just to show that there has been possession of the land.
They must also demonstrate that they have not had a break in the use of that land and the occupation must also be without the permission of the legal owner of the land. For example, a person renting or occupying land at the permission of the legal owner cannot claim adverse possession of the land.
Let's take an example.
Mr. A owns a certain piece of land which he has turned into a farm. He has been farming there for 20 years. Then comes Mr. B, the new owner of the adjacent land, who found that the fence around Mr. A's farm was incorrectly placed inside the boundary of his property. The land owned by Mr. B had been sold several times in the past but it is only now that the boundary issue came up when Mr. B requested for a survey of his property's boundaries.
So, can Mr. B have part of the property included in Mr. A's land back? Does he have the right to get it back? How can the true boundary of a property be determined?

If we are to base it on the old doctrine of adverse possession, the answer is no. Mr. B no longer has the right to challenge Mr. A on this issue and recover his property. Mr. B cannot force Mr. A to move the fence back to the original and correct boundary.
I remember years ago a family friend owned as house in Albert Park that backed onto a laneway. There are many suburbs across Melbourne littered with little back laneways so this scenario is likely to be frightfully common.
In our friends case, she realised when looking to sell that on inspection of the title documents, the back corner of her property that she owned on paper had at some point been lopped off in reality and was now used by neighbours as a laneway and thoroughfare to enter the rear of their properties.
As the laneway was in use and had been for some years, when she made enquiries about reacquiring the land (which was rightfully hers on her title documents), she was unable to do so, as sufficient time had passed for the land to be deemed no longer owned by her and the neighbours were able to show that by using the land to enter their properties, they had in effect enacted adverse possession.
So it pays to be careful and to check your title if you are a land owner. You just never know what you may have lost until it is too late.
How can a surveyor help you?
In cases like this, the role of a surveyor is crucial. This is because the process of challenging a land owner on the issue of adverse possession involves several stages.
The surveyor is the right authority who can perform a check survey to determine the proper boundaries of a certain real estate property according to the original subdivision or survey plan. He will then make a drawing of the property showing the boundaries with the proper measurements and fencelines. The drawing is useful in making a comparison with other survey plans involving the property.
Getting a qualified surveyor should be a priority. Choose one who is familiar with the local area where the property is located. One who knows about the property concerned can be more reliable.
Other qualifications to look for include licenses and certifications as well as membership in professional associations. For example, in Victoria, Australia, the Surveyors Registration Board of Victoria is the agency that issues licenses to qualified surveyors. You may want to check if the surveyor you want to hire is licensed by visiting the Board's online registry of licensed surveyors.
On the other hand, a real estate lawyer is the best person who can give you advice whether or not you should pursue a claim on your property that was mistakenly included in another person's property.
How does one apply for Adverse Possession?
An application for adverse possession is usually published in the newspaper, in the Notices section, to allow time for a person claiming an estate or interest in the land (such as relatives of the owner of the land) to lodge a caveat forbidding the granting of the Application. Otherwise, the Registrar General will issue a Certificate of Title in the name of the occupier and cancel any existing Certificat of Title.
The entire process can be lengthy and may take many years but is one which allows occupiers of land to acquire legal title if the legal owner cannot be found.
What are your thoughts? Do you think it is right for someone occupying land for an extended period of time is then entitled to own that land? Leave a comment below.
Found this article useful?
Consider using the buttons below to share on your favourite social network.

By Wendy Chamberlain
Copyright 2013 Social Property Selling
WANT TO USE THIS ARTICLE?
You can as long as you include the following (links must be active):
Social Property Selling is the brainchild of Wendy Chamberlain, a trainer, speaker, International best-selling author and online engagement strategist who combines her online savvy with her passion for real estate to show sellers and real estate agents alike how to achieve a better price when selling a home. To receive your FREE Special Report and how-to articles to expand your real estate toolkit, visit www.SocialPropertySelling.com.
Google+
Tagged as: adverse possession, adverse possession victoria, adverse possession victoria australia, albert park real estate, blackburn south real estate, bulleen real estate, carlton real estate, challenging adverse possession, fitzroy north real estate, interest rates, mckinnon real estate, Melbourne, melbourne real estate, mont albert real estate, ormond real estate, property owners, real estate, real estate agents, Social Property Selling, surrey hills real estate, Victoria, Wendy Chamberlain, what is adverse possession