Already using Social Media? Follow Social Property Selling for the latest about new features, tips and tricks when it comes to real estate and social media.

Choosing the right real estate agent (realtor) to take care of selling your home should be a measured decision.
The person you choose needs to be somebody you're comfortable with and who you feel has the experience and confidence needed to get the result you're after – the sale of your home.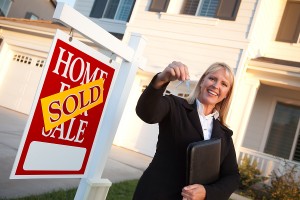 After all, buying and/or selling a home is one of the largest transactions most people will undertake during their lifetime. For the same reasons, it can be one of the most stressful too, so choosing the right person is vital.
You're going to be working very closely with this person so it's extremely important that you are confident in their ability to sell your home.
As I pointed out in a previous article about correctly pricing your property, some real estate agents will deliberately overstate the value of a home in order to secure your listing.
Then, when the property fails to sell, they'll start the conditioning process, suggesting that you drop your price to "meet the market". The fact is, they should have correctly advised you as to where the market was sitting in the first place.
Having your home sit for an extended period of time on the market then having to drop the price to make a sale looks bad, plain and simple.
So how do you go about choosing the best agent for you to sell your home?
Ask Questions
When choosing your agent, ask them lots of questions about their experience in the area and their experience selling your type of home.
Do they have a substantial database of buyers that they can leverage to generate interest in your home? Perhaps they are part of a chain that can tap into a large network of buyers. Perhaps engaging the services of a boutique local agent is going to get you a better result.
These are all valid questions to consider before choosing.
Get to Know Them
Take your time choosing an agent and ask lots of questions. Go along to open for inspections where the agent is marketing a home for sale for someone else.
Without identifying who you are, go along and act like you're a potential buyer. How does the agent treat you? Does the agent follow you up after the inspection?
If you're not happy with how they treated you as a prospective buyer or they fail to follow you up, why would you then employ them to sell your home (and behave exactly the same way with your potential buyers)?
On the other hand, if they are courteous and great on the follow up, they'll do likewise for your potential buyers and may just be the right agent for you.
Ask a Trusted Friend or Colleague
Just as in business, we like to work with people we know, like and trust. Finding a suitable real estate agent to sell your home is no different.
Ask a trusted friend or colleague if they can recommend anyone in your area to sell your home. If you know of someone that has recently sold their home, ask for their feedback about the agent and the agency and whether they'd recommend them.
If they would, great! Get in touch with that agency and start the process of asking questions and getting to know them (as outlined above).
Take your time choosing an agent and ask lots of questions.
Don't be Lazy
I can't tell you how many times I've seen a landlord simply hand their rental property to the sales team at the same agency and expect them to sell it. They've done a good job renting out my property so they'll do a good job selling it too – right? Wrong!
Firstly, the sales team and the rental team at any agency are two different departments. Secondly, as with anything, you have good agents and you have great agents. You're after a great agent to get you a great result.
Do your homework and some due diligence. If it turns out that your rental agency is the perfect team to sell your house too, fantastic! Go with them. But make sure you've asked the right questions and understand how they work first.
Remember, not all agents are equal and not all real estate agencies will achieve the best result for you. Ask for recommendations from friends, attend opens and get a feel for how an agent will perform selling your property first hand.
Then, you'll be well placed to make an informed decision about choosing the right agent to sell your home.
What do you like to do when it comes to choosing a real estate agent to sell your home? Leave your comments below.
Found this article useful?
Consider using the buttons below to share on your favourite social network.

By Wendy Chamberlain
Copyright 2013 Social Property Selling
WANT TO USE THIS ARTICLE?
You can as long as you include the following (links must be active):
Social Property Selling is the brainchild of Wendy Chamberlain, a trainer, speaker, International best-selling author and online engagement strategist who combines her online savvy with her passion for real estate to show sellers and real estate agents alike how to achieve a better price when selling a home. To receive your FREE Special Report and how-to articles to expand your real estate toolkit, visit www.SocialPropertySelling.com.
Google+
Tagged as: house for auction, house for sale, property, property market, property selling, real estate, real estate agencies, real estate agent, real estate agents, sell your house, selling a home, Social Property Selling, value of a home, Vendor, Wendy Chamberlain